12 November 2020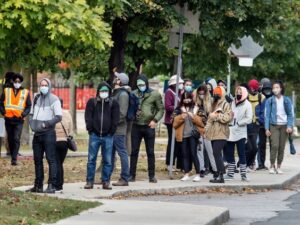 COVID-19 is surging across Canada, with caseloads reaching record highs in various parts of the country and provincial governments reimposing restrictions to curb the spread. This is the state of the novel coronavirus in the worst-hit provinces. The state of COVID-19: Toronto and Ontario break records as second-wave worsens across country Ontario is reporting a record high of 1,388 new COVID-19 cases today, and 15 new deaths due to the virus. Health Minister Christine Elliott says Toronto posted 520 new cases, a record number of COVID-19 cases for the second day in a row. Premier Doug Ford was asked Monday whether the ballooning cases in the province pushed him to reconsider its new color-coded system for pandemic measures, which loosened public health restrictions in all regions but Toronto when it took effect Saturday. The tiered system places health units in colour-coded categories based on their caseload and transmission levels, and has drawn criticism for allowing activities such as indoor dining in restaurants in all alert levels short of a lockdown.
In Peel Region, the only area currently in the red category, local health officials imposed additional measures over the weekend in order to reduce the risk of transmission. But Ford defended the system Monday, saying it was built to give each region the flexibility to enact further rules, as Peel did. "That's the reason we have the framework," he said. Toronto, meanwhile, is remaining under a previous, more stringent system until the end of the week, at the request of local officials. Mayor John Tory said the city would likely follow in Peel Region's footsteps and impose "an enhanced suite of measures" to stem the spread of the virus, with more details to come Tuesday. The city's top doctor, Dr. Eileen de Villa, said the COVID-19 numbers seen over the last few days were among the "most concerning" she's seen since the start of the pandemic. The province also reported 159 new COVID-19 cases related to schools, including at least 103 among students. Those bring the number of schools with a reported case to 601 out of Ontario's 4,828 publicly funded schools. Quebec is reporting a seventh straight day of more than a thousand new COVID-19 cases, with 1,162 infections and 38 new deaths linked to the novel coronavirus. The Health Department says nine deaths were recorded in the previous 24 hours while another 27 occurred during the past week. One death was before Nov. 3 and another was on an undetermined date. Hospitalizations were down by six, to 534, while the number of patients in intensive care increased by six for a total of 82.
There are currently 10,937 active cases in the province. While community transmission in Quebec was limited by the spring lockdown, it is now occurring in much of the province, said Roxane Borges Da Silva, a professor at Universite de Montreal's school of public health. The province has now reported a total of 117,151 confirmed COVID-19 cases and 6,493 deaths since the beginning of the pandemic, along with 99,721 recoveries.  Manitoba will be moving the entire province to the critical or red level on its pandemic response system, CTV News reported. Starting Thursday, non-essential retail outlets will be limited to curbside pickup and delivery, and churches will not have in-person gatherings. Social gatherings with anyone other than household members will be forbidden, and restaurants, museums, theatres, and recreational activities must close. Schools will remain open as the province's chief public health officer says officials are not seeing many transmissions within schools. We need to flatten our COVID curve and we need to do that now," Premier Brian Pallister said Tuesday. There has been a surge of cases in Manitoba since a summer lull when, at one point in July, there was only one known active case. There have since been outbreaks in long-term care homes and hospitals and widespread community transmission of the novel coronavirus. Intensive care beds, including those occupied by non-COVID-patients, are running close to capacity.
Manitoba leads all other provinces in per-capita active cases. Over the weekend, B.C.'s chief public health officer issued directives requiring people living in two health regions to cut back on their social interactions in order to slow the rising COVID-19 case count. Dr. Bonnie Henry's latest directive on Saturday said that people in the Vancouver Coastal and Fraser health regions may only socialize with those in their "core bubble."Henry says dangerously high and rapid increases in COVID-19 cases have forced a reversal of the restart plan for two weeksB.C. reported Monday 998 new cases of COVID-19 detected over two days, pushing the number of active infections to 4,891. Five more people have died after contracting the illness for a death toll of 281.